What are you looking for?
About us
About United States Postage Stamps
Alexander M. Greig's City Despatch Post, a private New York City carrier, issued the first adhesive stamps in the United States on February 1, 1842. The Post Office Department bought Greig's business that same year and continued use of the stamps for carrier service in New York City.

After U.S. postage rates were simplified in 1845, New York City Postmaster Robert Morris, among others, provided special stamps or markings to indicate prepayment of postage. These now are known as Postmasters' Provisionals.

In 1847, Congress authorized United States postage stamps. The first general issue postage stamps went on sale in New York City, July 1, 1847. One, priced at five cents, depicted Benjamin Franklin. The other, a ten-cent stamp, pictured George Washington. Clerks used scissors to cut the stamps from pregummed, nonperforated sheets.
In 1855, the prepayment of letter postage became mandatory.

Beginning January 1, 1856, mailers were required to prepay postage using U.S. postage stamps.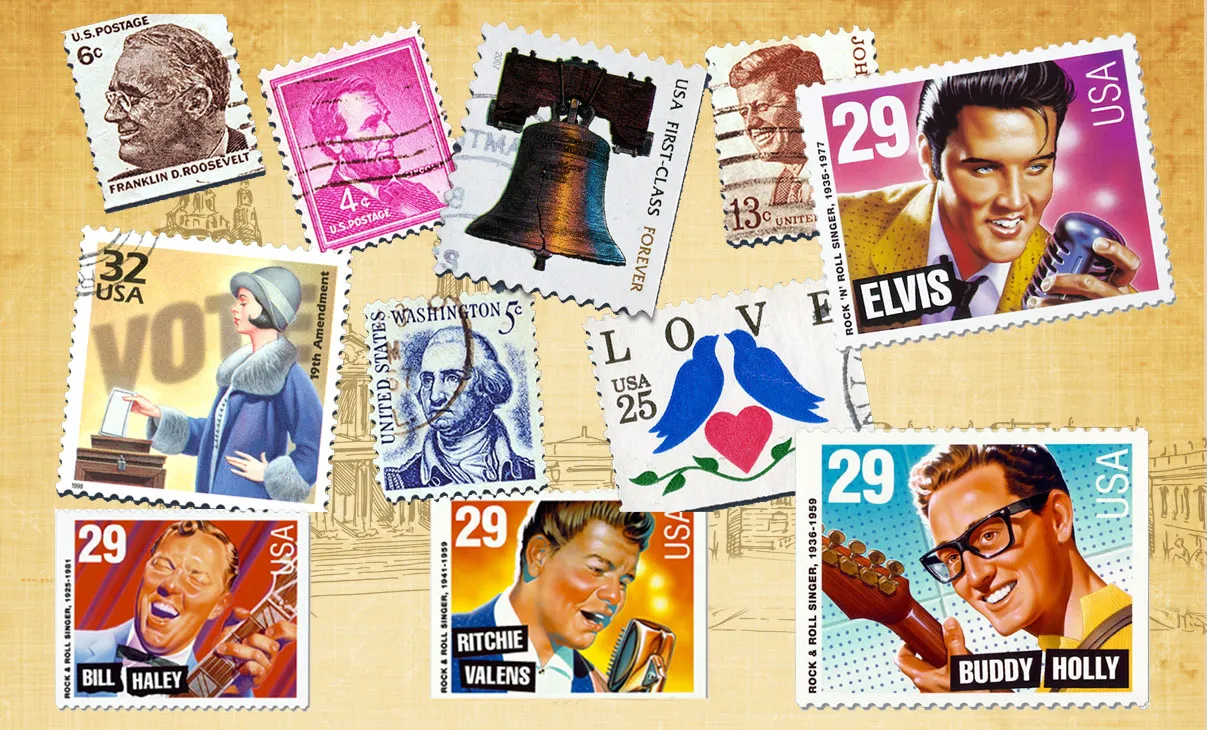 Commemorative stamps honor important people, events, or aspects of American culture, and tend to be larger in size than regular issues of stamps, which are called definitives.
In 1893, the first U.S. commemorative stamps, honoring that year's World Columbian Exposition in Chicago, were issued. The subject — Columbus's voyages to the New World — and size of the stamps were innovative. The stamps were 7/8 inches high by 1-11/32 inches wide, nearly double the size of previous stamps.
Over the years, commemorative stamps have been produced in many sizes and shapes, with the first triangular postage stamp issued in 1997 and the first round stamp in 2000. In 2017, the Postal Service issued its first stamps with special tactile features — the Have a Ball! stamps, printed with surface textures mimicking sports balls, and the Total Eclipse of the Sun stamp, printed with a heat-sensitive ink that, when touched, revealed an image of the moon.
The 29-cent Elvis Presley stamp, issued in 1993, has been the best-selling U.S. commemorative stamp to date.
The first nondenominated stamps (stamps without a printed value) in the United States were two Christmas stamps issued October 14, 1975. The Postal Service had requested a rate change from 10 to 13 cents and was unsure when the Postal Rate Commission would issue a recommended decision in the case. When the rate change was delayed, the stamps were sold for 10 cents.
A similar situation led the Postal Service to issue nondenominated stamps on May 22, 1978. They bore the letter "A" rather than a denomination. Nondenominated stamps with letter designations through "H" were issued in conjunction with postage rate changes through 1998.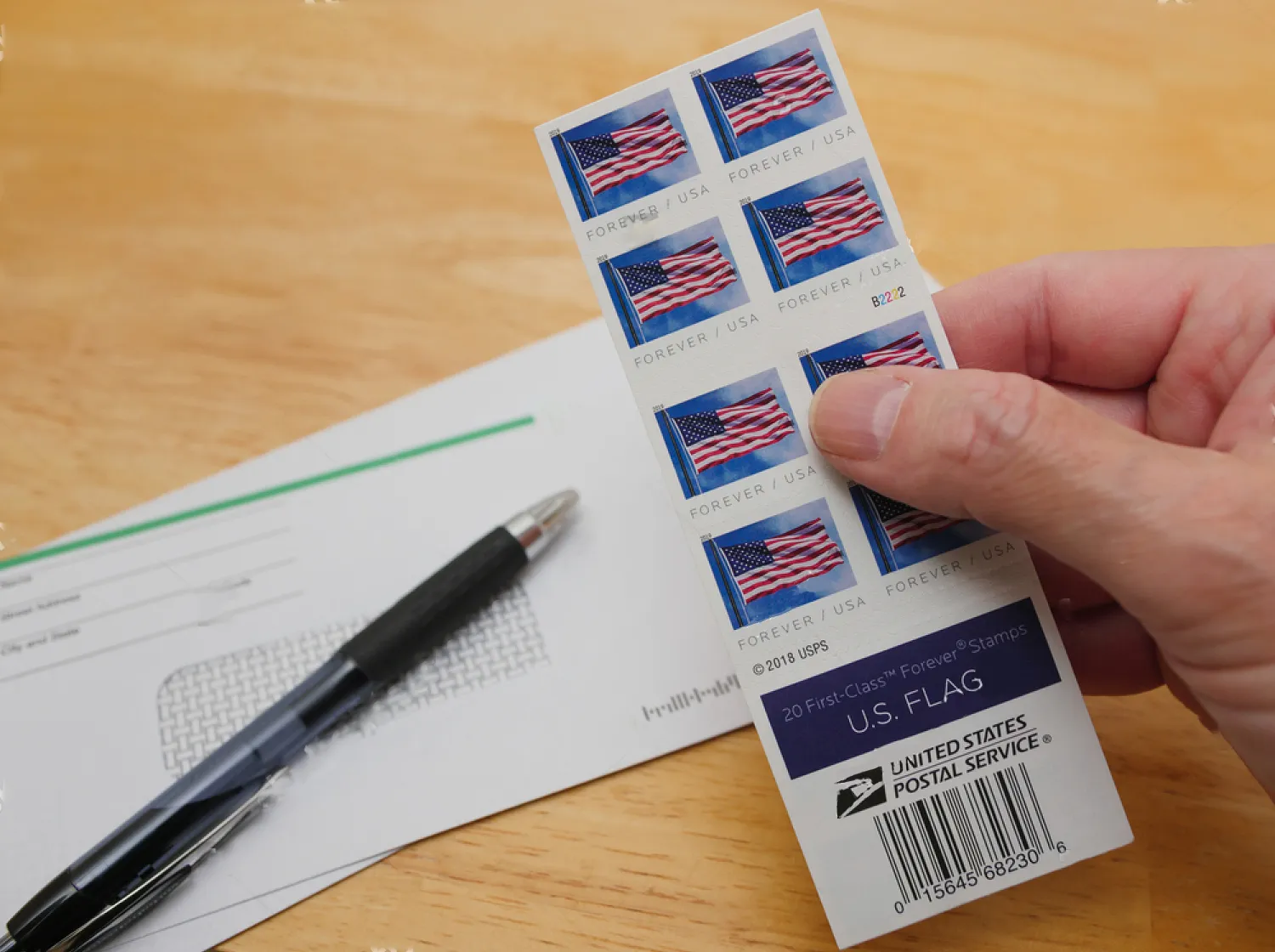 On April 12, 2007, the Postal Service issued its first Forever stamp, a nondenominated, nonexpiring stamp intended for customers mailing a piece of First-Class Mail. Sold at the going rate of a First-Class stamp, a Forever stamp is always valid for the first ounce of First-Class postage. Forever stamps were initially intended to ease the transition during stamp price changes. From 2007 to October 2010, only one design was issued: the Liberty Bell Forever stamp.
Due to their popularity, in 2010 two additional designs were issued — Holiday Evergreens Forever stamps on October 21, and Lady Liberty and U.S. Flag Forever stamp coils on December 1.

Since 2011, all new commemorative stamps for the First-Class Mail one-ounce rate have been Forever stamps.

Since 2014, all new stamps for the First-Class Mail one-ounce rate have been Forever stamps.

In 2013, a Global Forever stamp was introduced, offering a single price for any First-Class Mail international one-ounce letter going to any country in the world — or for up to a two-ounce letter going to Canada. Beginning in 2015, Forever stamps were also issued for postcards, and for letters needing additional postage.

Hi, my name is Sophia, and I am a third-generation stamp agent in our family business. We have been in the stamp agency business for over 40 years. By 2020, my love for personalized items and background in marketing and home decor product management will have created something wonderful: beautiful stamps and gifts.
We have a great team that helps me with sourcing and shipping. We have taken over the USPS Gold Dealership, and when you shop with us, you are helping to make a dream come true. Thank you so much for supporting our small business. My team and I look forward to creating something special for you.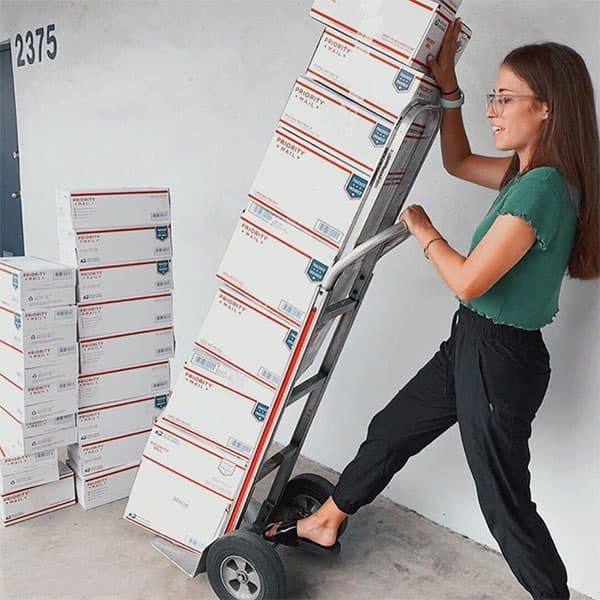 Since the first day, we've been working tirelessly in order to expand our product offerings to our customers and make their experiences even better. We're confident and proud of how far we've come, yet remain committed to performing even better.
The myriad stamps issued by the United States Postal Service reflect the American experience. They feature heroes, history, milestones, achievements, and natural wonders. Every stamp has a story, and we want to share it with you.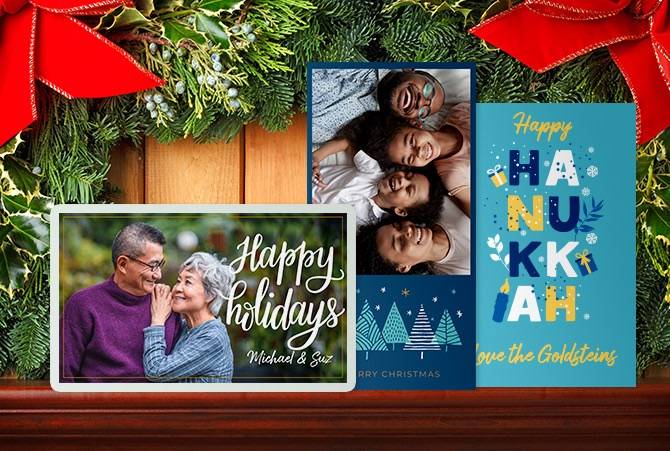 FULFILLING OUR MISSION
To achieve our mission, we are committed to:
Being an essential component of the United States Government, ensuring that all Americans have universal and unrestricted access to our unparalleled delivery and storefront network.
Maintaining and strengthening our reputation as a dependable representative of the federal government in every community and providing all levels of government with access to our network and services.
Delivering mail, packages, and other communications to all Americans consistently and securely, ensuring that our services are dependable, reliable, and safe.
Leveraging technology, innovation, and private sector partnerships, where appropriate, to optimize and adjust our network, operations, and business model to meet the evolving needs of our customers and recipients, while staying true to our core mission.
Operating in a modern, efficient, and effective manner that enables us to minimize our fees, while also meeting our commitments to our current and retired employees, as well as our other stakeholders, in a just and equitable manner.
Being an employer of choice, attracting, retaining, and cultivating top-quality employees with the skills necessary to succeed in a rapidly changing business environment.

Official Authorized Store: The Mail Center LLC
Email: StampsService@outlook.com
Phone: +1 9296341150 ‬(support SMS ,whatspp and voicemail. Please send us your order number, or email. )
We will reply to you by SMS or email within 12 hours.
In order to take care of the employment of deaf people, our company recruits deaf people to be customer service staff,
so we only support SMS and email text message reply, we have no way to answer and make phone calls for the time being.
Thank you for your understanding